In an ideal world, you should never be turned down whenever you apply for a Pag-IBIG Housing Loan. You can simply go to the office of the Pag-IBIG Fund, the staff would be excited to serve you, you smile as you submit all the requirements and wait the next day for the approval. What wonderful world it would be!
Unfortunately, that will never happen in a real world setting. Like all other financial institutions, the Pag-IBIG Fund has to consider a number of factors before granting you the loan. In the past articles we have discussed some of those factors they use to evaluate a loan application, among those are the following:
Your Records with the Pag-IBIG Fund
Employment or Business Status / History Capacity To Pay
Appraised Value of the Property
The Property Itself
By now, you should already realize that just because you are a member of the Pag-IB IG Fund doesn't mean that getting a housing loan is going to be easy.
In case you are thinking of applying for a housing loan, bear in mind that it could be possible that your loan application could be denied, or you will get an amount that is much lower than you expected. In other words, you don't get what you want.
This article is meant to guide you on what to do next if the result of your loan application will be negative. To this end, take note of the following tips on what you can do.
Tip #1: Check if The Problem Related To The Property
Obviously, not all properties are equal. Some are good investments, others are just plain crap. Some places are safe to live; others are camping grounds of criminals. Indeed, some are more problematic than others.
You may not know it, but Pag-IBIG is very strict in evaluating a property that you consider buying. It has to undergo a series of rigorous evaluations to see if the property is worth the risk. Remember: the land title will be used as collateral so eventually if it is really a lot of risk, Pag-IBIG will not even consider that property.
Bear in mind that the Pag-IBIG Fund is in the business of real estate loans, not on selling problematic properties.
(See also : Collateral Requirement of Pag-IBIG Housing Loan.)
Tip #2: Get Your Finances In Order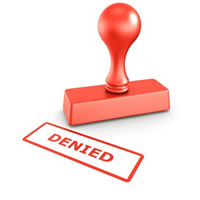 Until now, I'm still shocked to receive comments like, "If I pay the 24 months upfront, can I apply for a housing loan immediately?" It is as if paying the 24 months contribution is the only factor that hinders them from being granted the loan. In reality, paying 24 months is not at all the problem. That's just a total of P 4,800; even kids can do that.
Instead of putting too much focus on the 24 months contributions, what you should do, if you are really serious about buying a home, is to work on your cash flow. The following should be helpful:
Save enough money for the equity or down payment. This is roughly 20% of the selling price of developer-owned property.
See to it that you can pay for the monthly amortization. That means, work on improving your level of income, which is one of the most important factor affects your loan entitlement.
See to it that you will pay your money dues. Assuming that you can pay, the question is WILL you pay? Once you take on a loan, you better be serious about paying it.
(See also: Are you qualified for a housing loan?)
Tip #3: Consider A Cheaper Property
Of course, who doesn't want to live in a mansion close to the downtown area with all the amenities just close by? That would be very sweet, after all.
But when reality bites as it should, it is best to settle on the one that you can afford to pay. The positive side effect of that decision is that you can sleep soundly at night.
(See also: Forget About That Dream House, Buy A Functional House Instead.)
Tip #4: Get A Co-Borrower
If you have some good relatives who are willing to help you out, that would be nice. You can talk to them about becoming your co-borrower. Pag-IBIG allows a maximum of three (3) qualified Pag-IBIG Members to tack in a single loan secured by the same collateral, provided they are related within the second civil degree of consanguinity.
That means they can be your:
Parents
Siblings
Children
Aunts and uncles
Cousins
Grandparents
Grand children
See? That's a lot of help. But please proceed carefully. This is one of those itchy options that you want to avoid as much as possible.
Tip #5: Try Other Housing Loan Alternatives
Denied a Pag-IBIG Housing Loan?
Relax! Please realize that the world doesn't stop spinning if you are denied a Pag-IBIG housing loan. There are other alternatives that you may consider such as the following:
Bank Financing
Mortgage Loans From Credit Cooperatives
In-House Financing if the seller itself is also a developer.
For a detailed explanation on this topic, please read the "Pag-IBIG Housing Loan Alternatives" article.
If any of the above still doesn't work, don't lose hope. You can always try again next time.
"5 Tips To Take If Your Housing Loan Application Is Denied" is written by Carlos Velasco