Starting this month and every end of the month thereafter, we will be posting a set of questions we receive from site visitors — especially, highlighting the most important ones that every Pag-IBIG Fund member should know — plus, our respective replies.
If you are like them you and there is something that you want to ask about your membership, home loan, buying plans, Pag-IBIG Fund policies and processes, please don't hesitate to send your questions by filling up the Contact Form here.
We'll do our very best to answer your questions.
Meanwhile, on to the Question and Answer for this month of April 2014.
Subject: How Pagibig Financing Works?
I would like to buy a house and lot for 500,000 pesos, but i have 250k only. How will Pagibig help me on this?Can they pay the remaining to the seller then I will pay Pag-ibig through their terms? How does the system works?
Our Reply:
That's a good set of questions and every beginner should try to understand the whole process of a housing loan.
Pag-IBIG can definitely help you in this area, you don't need to have P 500k to be able to buy a P 500k worth of property. With only a small amount of your own money (Down Payment), you can acquire a much larger-valued
property by availing of a housing loan. This is called Leverage. And that is a general characteristic of a housing loan — be it from Pag-IBIG, from a bank or any other financing institution.
Some articles to help you understand:
Subject: Co-Borrowing To Purchase
Here is a set of follow-up questions from our visitor named Denice.
1. So it's perfectly legal to loan for a lot even if I'm using the money to build the house? Because we really don't have to spend much for the lot i.e. we're just paying for the capital gains tax and the transfer fees.

Yes
2. How do I compute my net disposable income? Is this the same with gross less tax, GSIS (yes, I work for the government), Pag-ibig, and Philhealth? Or should I also deduct the common monthly expenses per month?

You are correct. There is no need to deduct your other expenses, since it varies greatly from one person to the other.
3. I've heard from colleagues that there's another government agency for housing loans with lower interests compared to Pag-ibig. I'm sure it's not GSIS since they've already stopped offering housing loans. Can you verify if this is true? If so, what's the agency?
Hmmm… Perhaps it's the National Housing Authority (NHA) or there is another one I forgot the name but they mostly entertain and serve only the "urban poor." They'll have to check the community where the property is being bought and make sure it's that overly decorated with bells and whistles and other amenities you would expect from a high-end or even mid-level subdivision.
You'll have to check this out yourself since I'm only speaking from what I've known about those agencies. I may be wrong in that area, though.
Subject : Lost the Land Title
Message :
20 years ago I purchased house and lot I and has fully paid it now with updated tax payment. I move in Japan to marry with Japanese husband so I 'm living here with my family but on that time I lost my Land Title of my property in the Philippines. What is the procedure for inquiring and where I have to inquire a replacement of Land Title in the Philippines.
Our Reply:
You have to consult a lawyer to assist you on that one. The government office in-charge of record keeping for all Land Titles in the country is the Registry of Deeds. You may have to check where their office is located in your respective city or town.
Subject: How to Become a Pag-ibig member?
Message:
Hello.I want to know,I want to become a member,but i dont have any business.but I sell vegetables in market only.Can i become a member?And how?
Our reply:
Pag-IBIG Membership is not just limited to employees. If you are self-employed or you run a business, you can still become a member.
Here is a useful guide to give you an idea:
https://www.pagibigfinancing.com/articles/2010/voluntary-membership-to-pag-ibig-fund-the-self-employed-freelancers-and-non-employees/
To apply for your membership, you have to go to the branch, but it would help if you prepare the documents already before going there. So please read that article.
Subject: Dividends / other option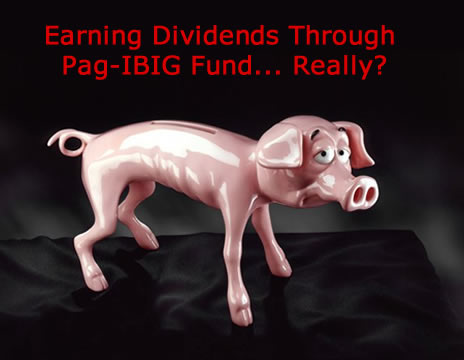 Message:
Good morning to all the staff of PAG-IBIG . I am presently working in K.S.A for the last 21 years but before I left Philippines,I worked for 11 years. I was told by one of the staff of PAG-IBIG last year when I paid my PAG-IBIG that I have paid since 1988, and I have my dividends. Unfortunately, I was notable to follow up because I was out of time
I would like to inquire if , what are my benefits that I can get or avail from PAG-IBIG?
I want to know about the dividends. I am at present building my house and about to be finished. Can I get any cash to financed my house ? Or any suggestions that I can avail? thank you so much.
I am coming home for vacation this March 28,2014 and I am from Cagayan de Oro.
Good Luck and more power to PAG-IBIG
Our Reply:
Here are three of the most important benefits available to you once you become a member of the Pag-IBIG:
It is here where your money grows. Each year the Pag-IBIG Fund declares dividend and distributes the money to all Pag-IBIG Fund members. Your money, the money contributed by your employer (if you have one), plus the dividends all form part of the so called Total Accumulated Value.
Planning to buy a house? Pag-IBIG can help you finance your home purchase.
3. Cash Loan a.k.a Multi-Purpose Loan:
To learn more, here is a good article to read: "Benefits of Becoming a Pag-IBIG Fund Member"
We apologize for not updating this website for so long already. But we do intend to keep it active as evidenced by the replies we sent to the site visitors who are sending their questions.
Again, feel free to send us your questions. Use this form to contact us.