As you probably know already, a Pag-IBIG Housing Loan can be used to finance for the following projects:
Purchase of Lot-Only Property
Purchase of a Condominium Unit
Refinancing an Existing Mortgage
Home Improvement, Renovation, Construction Loan
( See also: The Fundamentals of Pag-IBIG Housing Loan )
The first three items listed above are easy to understand and they are the most common types of housing loans that members of Pag-IBIG avail.
The focus of this article is in the last item, which we can simply refer to as Home Construction Loan, but bear in mind the same concepts also apply to Home Improvement or the so called Renovation Loan.
A Tricky Loan?
This type of loan is a bit tricky as you will see later. It's also something you need to understand very well before even attempting to submit an application. Like the other type of housing loan under the Pag-IBIG Fund, you still need to undergo the same pre-qualification criteria when you apply for such loan. But it is quite different than getting a Housing Loan for the purpose of buying a house, a condo or a vacant lot in. For the Home Construction Loan, you need some more additional documents:
Building Plans
Specifications and Bill of Materials duly signed by the Licensed Civil Engineer or Architect
Real Estate Tax Receipt
Building, Electrical, and Sanitary Permits
Occupancy Permit.
For a review on the complete list of document required when applying for a Pag-IBIG Housing Loan, please refer to this link: Pag-IBIG Housing Loan Document Requirements.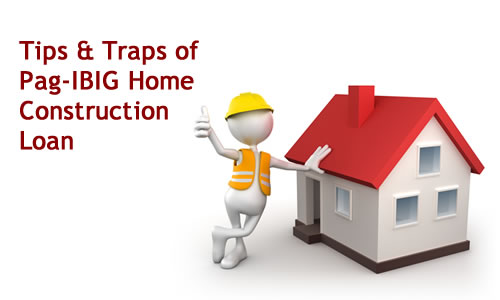 Why did I say in a prior paragraph that Home Construction Loan is a bit tricky? Well, consider these words submitted to use by one Pag-IBIG Fund Member who availed of this loan. There are a lot of lessons to be learned here and we will discuss some of them after.
Learning From Experience
Good day! I am in a dilemma right now and i hope you could answer my query. I applied for a housing loan some 3 years ago for lot purchase thru pag ibig. Early this year we decided to apply for house construction loan as an additional loan to pag ibig. We decided to use our personal money at first and while construction is on going, we processed the loan. It took a while to process our documents and when assessment time came, the assessor informed us that his assessment for our structure would reach 1.9M, while we applied for 1.1M loan only.

However, i was informed that our approved loan amount is only around 600,000 since pag ibig's basis in on the itr submitted, to be deducted with the existing loan so we will only be able to receive less than 300,000.

Our house is completed this time using our personal money and we spent around 1.5M already. I find it quite unfair that the loan that will be released is only that much while the value of the property would reach around 2.5M including the lot. In case of default of our payment, the value of our property is too big in consideration for the loan that we will get. Is there any way we can ask for reconsideration on this?
I'd like to highlight some important points that we can learn here. Think of the following as Tips and Traps of Pag-IBIG Home Construction Loan.
1. Prepare some money to fund the construction.
You will be needing that money for funding the initial and the succeeding phases of the construction project. It is also important to note that:
Pag-IBIG wants to see that the construction project has been started before releasing some money.
Pag-IBIG will release money on staggered basis, depending on the progress of the project.
Pag-IBIG wants to make sure you don't use the money for something else.
But come to think of it. The reason why you are getting a loan is so that you won't have to use your own money, right?
2. Get pre-approved before jumping in.
The amount of loan you will get is not necessarily equal to the estimated cost of the project. Most of the time, far lower than that amount.
Some factors that affect your approved loan include:
Your Salary / Income
You Age
The nature of your job or business
The value of the collateral
( See also: Income, Contributions and Loan Amount )
Knowing how much you loan money you will be granted definitely equips you from future surprises.
3. Think of the collateral and how much is at stake.
Here comes the part that you should think about very carefully. When you purchase a house and lot package, you will be shelling out for the down payment which is roughly 20% of the total selling price and you use a loan to finance the 80% balance. Normally, the purchase price is also the current market value of the property. Thus, you are essentially just using 20% money to take possession of 100% value. This is called leverage.
( See also : Loan Collateral )
On the flip-side, when you get a Home Construction Loan, you only get a small fraction of the total cost of the construction project in exchange of a much bigger collateral value – the land where the house stand plus the new and improved house on top of it. Not only that, you don't even get the loan money up-front.
Questions is, does it make sense to you?
In conclusion, as a Pag-IBIG Member, getting a housing loan is one of the best things you can do about your membership. But getting a Home Construction Loan is something you should really spend time thinking through. The whole point of buying a house and perhaps using a mortgage loan to finance the purchase is to enjoy the property. If the type of loan you are getting will only cause some headaches, it's best to avoid it in the first place.