This is the second of a two-part article series on Pag-IBIG Foreclosure. Here we'll talk about why foreclosure happens and some useful tips on buying foreclosure properties, more specifically, Pag-IBIG foreclosed properties.
(In case you missed Part 1, follow this link.)
Why Foreclosure Happens?
There are endless reasons why foreclosures occur, but basically they all boil down to the following categories.
1. Property Problems. This is perhaps the biggest reason why Pag-IBIG Foreclosures abound. We all know that a lot of Pag-IBIG accredited projects are low cost (read: low-budget) and this leads the developers to resorting to all kinds of dirty tricks just to recover the cost of doing the project.
In Pag-IBIG Subdivisions with high foreclosure rate, it is not uncommon to see the following:
Half-cemented road. You may think they are leave the other half for the next election, but the reality it, the politicians have nothing to do with the project.
Weak structures, sub-standard materials. Houses whose walls are not supported by cables or back doors that are so easy to break any grade school level Karate Kid can do it.
Flooded area. These happen to projects done by fly-by-night developers, the kind of developers who should not be developing subdivisions in the first place.
The list could go on.
Can you blame the buyers if suddenly they stop paying the amortizations and allow the foreclosure clock to just tick? These are reasons enough not to buy in these places even if you see a good deal.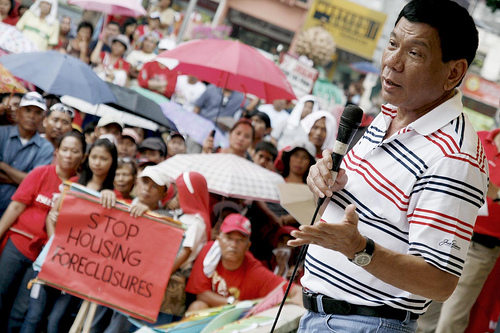 2. Personal Reasons. People change. Their situations also change. From changing careers to migrating to another country and all else in between, some of life events could drastically affect one's decision on whether to continue with the property or just let it go.
3. Financial Problems . The money matters no one dares to talk about… until it's too late.
Disease — We Filipinos are so used to the familiar phrase, "Bawal magkasakit." It doesn't require a rocket scientist to figure out that getting sick and being hospitalized for a longer time is really expensive.
Death – If disease is already expensive, death is even more so.
Divorce – Good news: We don't have divorce here in the Philippines. Bad news: We do have our own strange ways of breaking up a relationship (which should not be made in the first place). Yes, we do break up only after several black eyes are already obvious. Funny huh? Wait until you see what happens to the couple's real property, which by the way is considered conjugal property
As you can see there are many things and events that could possibly lead to a foreclosure. Therein also lies the problems and opportunities of foreclosure properties.
To Buy Or Not To Buy?
Unfortunately, there is no single best answer. If you know what you are doing and you get lucky enough in choosing a foreclosure property to buy, then good for you. One of the factors foreclosure properties are drawing a lot of interests from buyers, investors and speculators is that their prices appear so very cheap.
However, don't be misled by the cheap price tag that comes with the property. That Foreclosure property you're eyeing to buy may contain a bag full of tricks that may not be obvious at first. Always do your homework when considering foreclosure properties.
The following tips should serve as your handy and useful guide when buying a foreclosure.
Uncover the reason of the foreclosure. If possible, meet the owner during the pre-foreclosure stage. You may not get an honest reply, but there are a lot of things you will discover during the conversation.
Get the numbers and do the math. How much is the outstanding balance? What is the monthly amortization? How much was paid so far? What is the selling price? It should be negotiable.
Take a look at the property. Get a second look. Then finally, a third look. Never rely on the map, or the photos or the descriptions of the property. In other words, don't trust what you are seeing unless it is the property itself. Do some leg work. This process alone is already a potential source of stress, but you have to be aware that this is part of the cheap price you are paying. One of the disadvantages of foreclosure homes is that it is very difficult to inspect what's inside the house especially if there are still occupants living in the house.
And most importantly, don't do it alone. Always have a competent lawyer by your side to help you along the way.
"Part 2 of Foreclosure Properties — To Buy Or Not To Buy?" is written by Carlos Velasco.