This article is inspired by a letter sent by one of the site visitors who was planning to apply for a Pag-IBIG Housing Loan. He was doubtful whether he qualifies for certain amount of loan which is equivalent to the selling price of the a particular lot-only piece of real estate considering that the amount of contributions he is giving to the Pag-IBIG Fund is very minimal — the required minimum, in fact. The letter reads in part:
"I'm applying for a Pag-Ibig housing loan for a Php 640,000 worth of LOT. I'm employed in a private company and having a monthly net of Php 60,000 but my Pag-Ibig contribution is only Php 200 and is equivalent to Php 500,000 maximum loanable amount. How can I avail a much higher loanable amount to cover Php 640,000?"
This is the kind of letter that every Pag-IBIG Member deserves to be aware of. There are so many fine points raised by the letter sender and we will tackle three of them in the succeeding lines.
Point #1: Lot-Only Purchase
When thinking about Pag-IBIG Housing Loan, most Pag-IBIG members normally associate it with a house and lot purchase. Well, that's not necessarily the case. Just like the letter sender, you can use it to finance a lot-only property just as well. As a matter of fact, a Pag-IBIG Housing Loan can be used in any of the following:
Lot-Only Property. Normally, this means a piece of lot in a subdivision. That property has to be assessed by the Pag-IBIG Fund whether its title qualifies as valid collateral for the loan.
House Construction. The project has to be a residential unit that is to be constructed on a lot owned by the member-borrower.
House and Lot Purchase. This is the most common one. If the subdivision project is accredited by Pag-IBIG, please take advantage of the assistance from your broker/agent when processing your housing loan.
Home Improvement. Again, the land title has to be in the name of the borrower. A Home Improvement Loan may be availed by a member with an on-going mortgage.
Point #2: Minimum Required Contribution
Looking back at the letter, you may notice that he mentioned about contributing only P 200 per month, just like most every other member of the Pag-IBIG Fund — and rightly so. With regards to the rate of contributions, the Home Development Mutual Fund Law of 2009 stated the following :
Employees earning more than One Thousand five hundred pesos (P 1,500.00) per month – two percent (2%).
All employers – two percent (2%) of the monthly compensation of all covered employees.
Further more, the Pag-IBIG Fund stated that, "The maximum monthly compensation to be used in computing employee and employer contributions shall not be more than Five thousand pesos (P 5,000.000)…."
That means, whether you are earning below the minimum wage or you are in a high-income bracket, you are required to contribute only P 200 month (including the employer's share already).
The reasoning behind this figure is to simplify the accounting process. A rounded-off figure like P 200 is easier to manipulate than, say P 836.42. Add to the fact that some members have varying incomes month after month, this method is indeed much simpler.
Point #3: Contribution vs Loan Amount Entitlement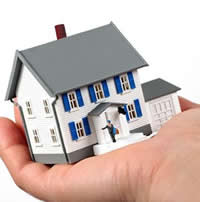 Previously, we have discussed the fact that a borrower's loan amount entitlement is affected primarily by two factors: his income and his contributions. Please refer to that very important article on Income, Contribution and Loan Entitlement.
Well, actually this is how it works: When you apply for a Pag-IBIG Housing Loan, you will be assessed based primarily on your capacity to pay — there is a table for that which is also shown in the article mentioned above. Since almost everyone is contributing only P 200, once you qualify for a loan amount that is bigger than P 500,000, you will be asked to upgrade your monthly contribution based on that loan amount also.
So to recap: First, you apply for a particular loan amount first and then you may have to upgrade your membership contribution to a higher amount.
Other Points Of Interest:
This part is for you to answer. On the letter, he said his salary is P 60,000 per month and he wants to take on a Pag-IBIG Housing Loan amounting to P 640,000 to purchase a lot-only property. Here are some questions that you may want to unravel for yourself:
Assuming the Pag-IBIG Fund has assessed the property to be P 640,000 and he is allowed a loan of only 70% of that appraised value, how much equity payment will be required of him by the seller?
Based on Q #1, is there a need for him to upgrade his membership contribution?
~~~
"Bigger Loan Amount, Smaller Contribution" is written by Carlos Velasco