Do you have any idea how much is the going rate of the Home Loan Program offered by your favorite bank?
As a home buyer, one of the first steps you should take before starting the legwork of searching for your home is to get to know the interest rates currently available in the market. That is, shop for the best home loan first, and then shop for the house.
If you have been visiting this website for quite a while, you should already know the interest rates of a Pag-IBIG Housing Loan.
Did you make any comparison of Pag-IBIG Housing Loan versus the competing Bank Housing Loan? You should. Just because you are a member of the Pag-IBIG Fund doesn't always mean that it's the only option you have when financing your home purchase. The banks may offer an even better alternative mortgage loan that really fits your needs.
When it comes to Housing Loans at larger amounts, most banks in the Philippines offer almost the same interest rates as those of the Pag-IBIG Fund. As a matter of fact, banks are even more competitive that most high-end buyers are using them to save on a lot of hassle involved with getting a Pag-IBIG Housing Loan. If that's the case, why should you even bother getting a Housing Loan from Pag-IBIG?
One site visitor has a keen observation on this matter and she dropped a message that read in part: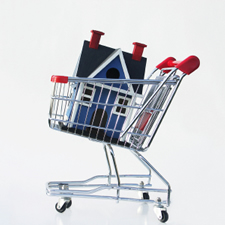 "What is the advantage of choosing PAGIBIG over banks? I'm looking at the interest and they are almost identical. Your answer might help me choose the lender for my property."
In this article, we'll compare the two financing options citing the advantages and the disadvantages of each.
Membership
A Pag-IBIG Housing Loan is only available to Pag-IBIG Fund members. That's the basic requirement and yet that's also one of the main reasons most Filipinos can't get access to the housing loan with the Pag-IBIG Fund. If your membership record with the Pag-IBIG Fund is not very impressive, your loan application may also be affected.
Getting a mortgage loan from a bank, however, doesn't require any membership at all. You don't even have to be a depositor at the bank to be considered a housing loan applicant. You can be a depositor at any bank and then apply for the competing bank and you are free to choose which one you think offers the best loan.
(See also : How To Check If You Are Qualified For A Pag-IBIG Housing Loan )
Income Requirements
You are probably aware that a member's loan amount entitlement has a lot to do with his level of income. Luckily, you don't have to guess anymore to see which loan amount you can possibly get given your current income. Please check our article that discusses the Income and Loan Entitlement and see which loan bracket you are at.
(See: What to do if you are denied a Pag-IBIG Housing Loan?)
Loan Amount
The minimum loan amount that you may be granted with a Pag-IBIG Housing Loan is P 100k. The maximum is only P 3M – so if your project costs more than that and you are to finance it with Pag-IBIG Housing Loan, don't even bother getting a Pag-IBIG Housing Loan.
Unlike the Pag-IBIG Fund, a lot of banks will only entertain you if you are loaning at least P 800k for a housing loan. At the flip side, a bank will also not give you a ceiling on the amount of loan that you can take as long as you are capable of paying for the loan and you are not really a risky borrower based on their assessment of your financial documents.
Banks have their qualifying parameters too that they use when evaluating a loan application. And it varies from one bank to another. As a general rule, your gross income should be at least three times greater than your monthly amortization for you to have a good chance of getting the money. You'll be asked to fill up a detailed Financial Information Sheet and always expect them to verify the accuracy of whatever you put there.
Loan Term
This is perhaps the biggest reason why Pag-IBIG Financing is so popular. A Pag-IBIG Housing Loan is noted for offering a long term loan of 20 to 30 years!
On the average, a bank can offer between 5 to 10 years on their housing loan clients. A 20-year loan is very rare with them.
~~~
"Bank Financing Vs Pag-Ibig Financing — A Mortgage Loan Comparison" is written by Carlos Velasco.