Here's a list of Pag-IBIG Properties for sale by individual sellers from the various places in the Philippines.
If you are interested with any of the properties here, please contact the sellers directly. Their respective contact information are also indicated at the proper places.
On the list so far:
A Condo Unit at El Pueblo Manila Condominium
A Townhouse unit in Binangonan, Rizal
Sacrificed Sale: Duplex w/o Garage Unit in Brgy. San Isidro, Cabuyao, Laguna
Details of the properties will be shown below.
If you have a property that you want to sell, too, don't hesitate to submit it here by using the Form at the Pag-IBIG Marketplace Page. See to that it can be financed using Pag-IBIG Housing Loan.
Pag-IBIG Financing Notes:
If you are interested with the property, please direct your inquiries at the name contact details of the owner indicated.
Other properties that will be submitted to us within the month of July 2011 will also be listed on this page.
If you have a property for sale, please feel free to submit it to us for everybody else to see. Use the form provided at the Pag-IBIG Marketplace page.
Property #1: A Condo Unit at El Pueblo Manila Condominium
Contact Person: Kristine Tomes; 09232284439
Property Location:
4th floor, El Pueblo Manila, Anonas St., St Mesa Manila, adjacent to PUP
Selling Price:
200K-150K, negotiable, assume balance thru Pag-IBIG, monthly amortization is P5.3K
Total Contract Price:
877,000.00 plus insurance, move in fee
Property Description:
13.5sqm, Ready for occupancy, fully furnish condominium, with appliances. Walking distance from PUP, in front of Filinvest Condominium.
Photos of the Property and the Condominium Project:
Why should you buy this property?
In demand for renting out to students studying at PUP and other nearby schools such as CCP, UERM, university belt. They can cook and do their laundry inside. Nice environment with security and cooperative community.
Why am I selling this property?
I have a growing family, I just gave birth and we will move in to my husband's house near my office.
Again, if you are interested in buying this condominium unit, please send an SMS or call the owner,
Ms Kristine Tomes at this line: 09232284439.
Property #2 : Townhouse unit for sale — Binangonan, Rizal
Location:
St. Monique Valais, Pantok, Binangonan, Rizal
Selling Price:
Php284,800.00 (negotiable), assume balance thru Pagibig, monthly amortization 5,700.00.
Prop Description:
45.50sqm, Ready for occupancy, 2-bedroom upstairs, with dirty kitchen, provision for garage.
Message From The Seller:
We had to move back to my hometown in Laguna where I have also transferred work. The unit is in good shape, neighborhood is awesome, and you will love the place =)
If interested, call or text me at 09323364213 or email at a_alcos@yahoo.com
Property #3 : Sacrificed Sale: Duplex w/o Garage Unit at San Isidro Heights Phase, Brgy. San Isidro, Cabuyao, Laguna
Location: San Isidro Heights Phase-I, Brgy. San Isidro, Cabuyao, Laguna
Selling Price: Php 280k (fixed), assume balance through Pag-Ibig, monthly amortization Php 5,530.45
Selling price is inclusive of processing and notarial fees of the ff:
Transfer of Rights with Assumption of Obligation
Deed of Absolute Sale
Affidavit (Buyer's Sworn Affidavit)
Special Power of Attorney
Occupancy Permit (Move-in fee)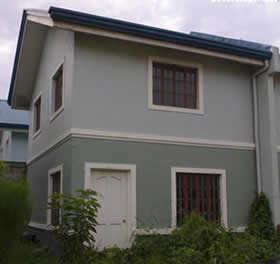 House Features:
Lot Area: 57 sqm
Floor Area: 49.50 sqm
RFO (Ready for occupancy)
With water and electricity
Bare type with one tiled bathroom/toilet
With ceiling (kisame) at 2nd floor
Two-storey (up & down) unit
Approx 2 rooms (on 2nd floor)
With back and side fence
Our unit is a 5-minute walk from the main entrance gate.
How to get there: From main entrance gate, turn left on the 1st road. Block 31 Lot 31 is on the 3rd block, 8th duplex unit.
Why Is This Property For Sale?
We decided to stay here in my hometown at San Pablo City, Laguna.
Our unit is in good shape, and never been occupied. San Isidro Heights is a FLOOD FREE area.
For interested buyers, please contact Ms Mylene Mina at the following:
Landline: +6349-800-3802
Mobile#: +63917-919-4877
Email: mylene_mina@yahoo.com
Again, please take note that if you are interested with any of these properties, contact the respective sellers directly.
~~~
Thinking of selling your property? Post it here for free.