Here's another letter that we'd like to share to every reader of this website. It's about the use of the Income Tax Return as a requirement in applying for a Housing Loan. The letter is shown below.
"I want to become a member of [the] Pag-IBIG Fun. My question is, is it possible na maging voluntary member ako kahit wala akong ma-present na ITR [Income Tax Return]? Hindi kasi ganun kalaki ang kinikita ko eh.

"Hope you respond to this.

"Thank you so much."
With reference to the letter presented above, we'll limit the discussion on this article on the following points:
Membership To The Pag-IBIG Fund
Income Tax Return and Other Requirements
Income Requirement
Locally employed individuals, freelancers, practicing professional, and operators of a small business in the Philippines who are interested about the Housing Loan Program of the Pag-IBIG Fund should pay attention to this article as we elaborate on the details in the succeeding paragraphs.
Mandatory Coverage
By now, you should be aware already that under the Home Development Mutual Fund Law of 2009, the following are mandated to become members of the Pag-IBIG Fund:
Locally employed Filipinos who are compulsorily covered by the SSS and the GSIS
Self-employed Filipinos with an income of at least P 1,000 / month
Overseas Filipino Workers
Filipino Seafarers
Uniformed members of the AFP, BFP, BJMP and PNP
Household helper earning at least P 1,000 per month
For these groups of people, there is no other choice but to become members of the Pag-IBIG Fund.
Voluntary Membership To The Pag-IBIG Fund
However, for the rest who also wanted to join as members, a Voluntary Membership to the Pag-IBIG Fund is available. If you should want to take this opportunity and become a voluntary member, take note of the following.
You are self-contributing – That is, there is no employer counter-part to your membership contribution unlike the case for the locally employed members.
Salary Deduction is NOT an Option – This should be obvious from #1 above.
You may or may not be granted a housing loan. It's important that you can demonstrate a proof that you are earning. More about this later.
(See also: Benefits of Becoming A Member of the Pag-IBIG Fund)
Income Tax Return and Other Document Requirements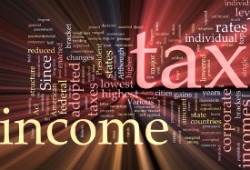 Here's a recap of the basic document requirements for the Housing Loan Application:
Housing Loan Application
Approved membership Status Verification Slip
Transfer Certificate Title / Condominium Certificate Title – Must be a certified true copy
Tax Declaration – Photocopy of the updated one
Location plan and vicinity map
In addition to the above documents, the following are also considered as basic requirements…
Housing Loan Document Requirements For The Self-employed or Business Owner
Now, if you happen to be a practicing professional (dentist, architect, accountant, etc), an owner / operator of a small business (more specifically a business structured as a single-proprietorship), or self-employed, the Pag-IBIG Fund says you need the following when applying for a Home Loan Program:
1 year Income Tax Return (1 yr)
Audited Financial Statement
Official Receipt of Tax payment from the Bank, DTI Registration, Mayor's Permit
As such, there's no escaping the ITR for self-employed and voluntary members.
Housing Loan Document Requirements For The Employees?
For the locally employed, ANY of the following must be presented:
Notarized Certificate of Employment and Compensation (Pag-IBIG Format)
Notarized Certificate of Employment and Compensation (Employer's Format) and 1 month latest Payslip/Payroll (certified by the employer)
Income Tax Return / Certificate of Tax Withheld (W2-Form 2316) and 1 month latest Payslip/Payroll (certified by the employer)
In other words, for the locally employed, the ITR is only optional. In lieu of that, you may use a Certificate of Employment and Compensation from your employer.
For a complete list of requirements, please visit this article.
Income Requirements
The letter sender above must a little bit worried about getting loan when she declared, "Hindi kasi ganun kalaki ang kinikita ko eh."
Having a large income is certainly advantageous in almost any business dealings when you apply for a real estate loan. That is, a bigger income gives you a better chance of getting a bigger loan amount also; and therefore, a bigger house.
But take note, Pag-IBIG Fund was created to make it easier for the low- and mid-income Filipino families to own a decent home by gaining access to a housing loan program that offers a lower rate and longer payment terms compared to the other financing institutions like banks.
(See also: Income and Loan Amount Entitlement)
When buying a real property and financing it using the Pag-IBIG Home Loan program, the following tips should be helpful to you:
Determine Your Budget for the House – As much as possible, it should not exceed 30% of your combined household income.
Loan Term – How much is it going to cost you on a month to month basis if you will be paying the loan in 15 years, 20 years or 30 years?
Consider Getting a Co-Borrower – This must be avoided as much as possible. But if you really need that property, this is an option to take. (Follow this article for more options.)

"Loaning With No Income Tax Return" is written by Carlos Velasco.