This is the second part on this series of articles about the Pag-IBIG Interest rates, penalties and defaults, as the title clear suggests.
In part 1, we mentioned about the going rate of Pag-IBIG Housing Loan. In case you missed it, please click here to read the article.
In this article, we'll touch on the following subjects:
Housing Loan Re-pricing
Late Payment Penalty on Housing Loan
Interest Rate for Pag-IBIG Multi-purpose Loan (MPL)
Penalty for Late Payment on MPL Loan
These topics will be discussed in the succeeding paragraphs.
Pag-IBIG Housing Loan Repricing
Pag-IBIG Fund says that Housing Loans over 400,000 and up to 3,000,000 is subject to re-pricing every three years at the rate at par with the prevailing market rates. The re-pricing shall be based on the outstanding balance of the loan. The interest rate to be used shall not exceed the following:
Pag-IBIG Housing Loan Repricing Interest Rate
| | |
| --- | --- |
| Original Loan Amt | Int. Rate |
| Over P 400 k to P 750 k | 9.00% |
| Over P 750 k to P 1.0 M | 10.50% |
| Over P 1.0 M to P 1.25 M | 11.50% |
| Over P 1.25M to P 2.0 M | 12.50% |
| Over P 2.0 M to P 3.0 M | 13.50% |
Question: What about the housing loans P 400,000 and below? Are they going to re-price it also?
Answer: Yes, Pag-IBIG may still reprice the balance every three years, but the rate to be used is still the original rate.
Pag-IBIG Housing Loan Penalty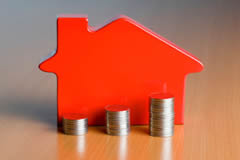 And what if you miss a single payment?
Pag-IBIG Fund imposes a penalty on non-payment of a full monthly amortization including the other obligations (such as membership contributions, insurance premiums, interest due and principal) which are already tucked into the monthly amortization due. The penalty is set at "1/20 of 1% of the amount due for every day of the delay."
That's not much for a single month, but if it becomes a habit, it could lead to a default which will be explained below.
Pag-IBIG Housing Loan Default
When you get a loan, you actually agree to pay all the obligations that go with it. In the case of Pag-IBIG Housing Loan, that means paying the monthly amortization, membership contributions, the insurance and all.
In case you fail to pay three consecutive payment dues, your account is already considered in default. If that happens, the entire balance becomes due and demandable. And since Pag-IBIG Housing loan is secured by the land title, Pag-IBIG will also indorse your property for foreclosure. Plus, it also puts a lien on your TAV – that's your savings with the Pag-IBIG Fund.
Now the word default is a nasty thing when applied to a housing loan. You want to avoid it as much as possible.
Multi-Purpose Loan Interest Rates
The Pag-IBIG Multi-Purpose Loan is among the cheapest loan available on the market. But this loan depends on the amount you have contributed so far. The longer you have contributed and the bigger the contribution, the more loan money you can get.
As to the interest rate, it is a mere 10.75% per annum at the time of this writing. And you can pay this loan in 24 months time.
Multi-Purpose Loan Penalty For Missed Payment
Small at it may be, for some reasons, some members who availed of the Pag-IBIG MPL Loan miss paying for amount as scheduled. In such cases, the Pag-IBIG Fund imposes a penalty equivalent to 0.5% of the unpaid amount for every month of delay.
If you want to know more about the Pag-IBIG Multi-Purpose Loan, the following articles are very helpful:
~~~
This is the second and final part of a series of articles on Pag-IBIG Loan Interest rates, penalties and defaults. This article is written by Carlos Velasco.