"Please let me know the document requirements for buying a property and using Pag-IBIG Housing Loan. I want to buy my first home when I go back to the Philippines for my annual vacation leave."
That's taken from a letter sent to us by an OFW visitor. Most probably, you too are on the same boat. That is, you want to take advantage of your time in the Philippines to look for a property to buy – or, invest as what the real estate dealers would want you to believe.
(Quick Check : Document Requirements for Pag-IBIG Housing Loan)
December is fast approaching. Nothing beats celebrating the Christmas seasons in the Philippines. And when you come home in the country, you will definitely see a lot of offers to buy a house or condo.
Should you bite the offer?
Is December the right time to buy a piece of property?
Many savvy real estate investors believe that there is such a thing as the right time to buy real estate. We'll discuss some of them in the following lines.
Buy At the Buyer's Market
Lacking access to the right information, not many Filipinos are aware of the two kinds of real estate market conditions:
Seller's Market – There are more buyers than available properties in the market. Sellers, of course, are happy with such conditions. For anyone who is into build-and-sell business, this is the time for celebration.
Buyer's Market – There are more properties for sale than there are buyers who would take them. Rush Sale, Discounted Offer, Low Down… these signs will be all over the place. Unfortunately, the buyers are not biting the offer.
Sounds like the Law of Supply and Demand in your Economics 101?
It's a universal law the affects real estate as well.
A good advice worth remembering: "Buy when everyone is selling. Sell when everyone is buying."
Buy Low (Sell High?)
Most real estate investors operate with this mindset: "Buy. Hold. Sell."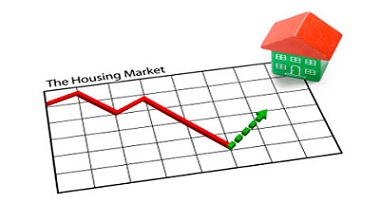 It works this way: They buy a piece of property, which is usually in a form of subdivision lot that is to be developed in some future time. Hold it for a couple of years or so, while waiting for the subdivision project to be completed and properly developed. Sell high at the current market price, which is usually higher than the cost of acquiring the property.
Buying low and then selling high leads to profit, right? This technique is sometimes referred to as real estate speculation. There could be inherent dangers with this approach, but for most investors who know what they are doing, this one works.
But even if you are not into buying and selling real estate for business, there is some wisdom in buying at a low price. If one is available and you think it is a good deal, go for it. There is nothing wrong about getting more for less.
Buy When You Are Ready
Forget about real estate investment techniques and all.
Real estate brokers and agents are crazy people. In a down market, they would say, "Now is the right time to buy while the price is still low." When prices are rising they would say, "Buy now before the price goes even higher." For them, it's always time to buy. Why not? That's their job. After all, they are licensed to do it.
It's time you tell them to shut up.
This one had to do with good old common sense… and very useful at that.
Buying when you are ready means:
Your employment or business is stable. This is very important. Don't buy a property if your employment or business is a little shaky. That's why we have been advocating that you forget about asking if paying 24 monthly contributions to the Pag-IBIG Fund is enough to get a loan. There's more to the getting a Pag-IBIG Housing Loan than just your contributions. Your employment track record and salary play an even bigger role.
You have saved enough for the down payment. So you think you can afford to pay for the monthly amortization on the house you are eyeing to buy? After all, Pag-IBIG allows you up to 30 years in loan term and you are eligible for that. Wait until you see the down payment. Remember, this is one area which you should prepare too.
You can afford to pay the loan. Make sure that the scheduled monthly amortization on your loan is not too much of a drain on your budget. Remember that you have other expenses too.
You are sure about the property you are buying. Owning a home entails a lot of responsibilities. Sometimes renting is even more beneficial than just buying a home. Make sure that you know the differences. Get your priorities in order. As a general rule, ask yourself if you will be staying in the property for five years or even longer. If the answer is yes, you are better off buying.
( See also : 5 Great Tips For The First Time Pag-IBIG Home Buyers)
~~~
"When Is The Right Time To Buy?" is written by Carlos Velasco.